The Land.
The LAND build workshop was part of Festival of Architecture 2016's the City and the Land event. The overall project brought attention to the architecture of Glasgow and it's surrounding rural landscapes and the event was a collaboration between the FoA2016 event and the Masters in Architecture project 'Next Generation of Architectural Practice' being undertaken by Lewis Grant and Paul Pointon. Paul's volume of the study involves a general investigation into new and emerging architectural practices from recent years and the tools they use to establish themselves. Lewis' study focused specifically on one of those tools that crosses the boundary between education and practice - the Live Build.
In the process of setting up the LAND build event there was extensive research into how the Live Build operates as an educational vehicle and the benefits to be gained from taking part in hands on construction. These include a whole range of skills and abilities relevant to the practice of architecture including communication, working with others, design ability and technical knowledge. This research informed the build event to make it worthwhile and enjoyable for all involved, with as much of a focus on the process of things as the finished products.
Involvement
I was approached by Lewis to attend and help at his Live Build event at Wiston Lodge in South Lanarkshire where he was running a course to teach architectural students from the Bachelors of Architecture course at Strathclyde University. This course was a major part of his Masters thesis on Live Build's which you can read by clicking the 'How To Live Build' button.
It was a well attended event especially from younger female students and it was a rewarding experience to answer their questions not only on the build but on wider issues and subjects within the study of architecture. I taught basic skills, oversaw the construction and finished some of the build after the event had come to an end. It was a short two day build, but a good insight into organisation of a Live Build.

Photo above courtesy of Ross Campbell, others belong to author.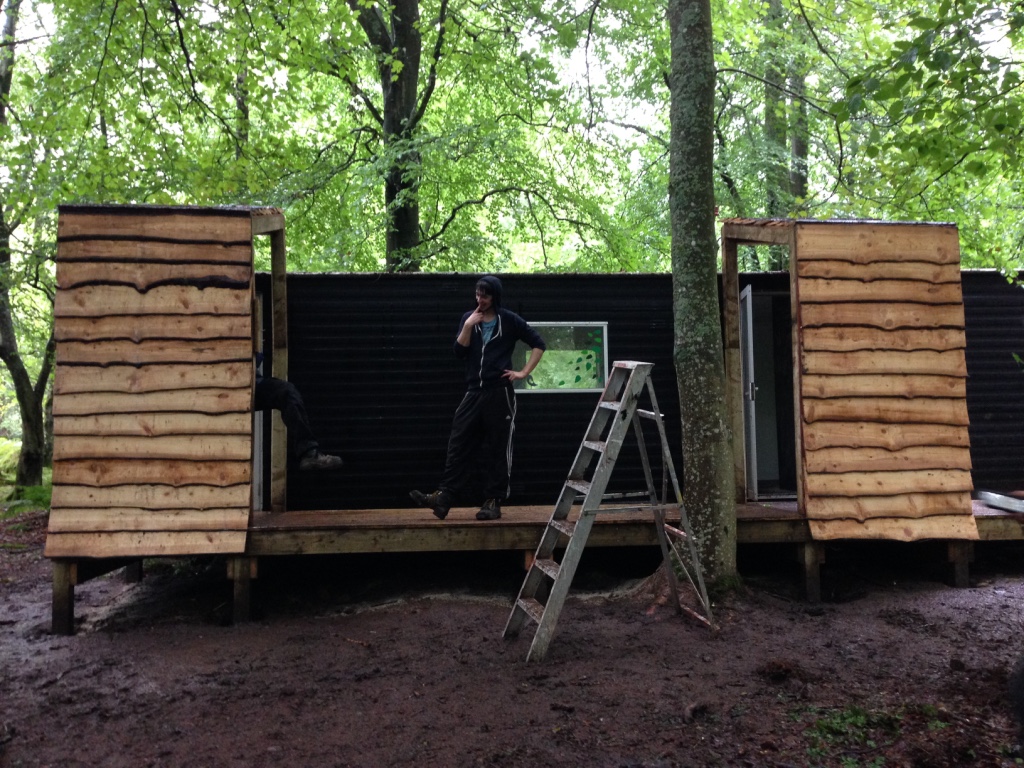 Many photos courtesy of Ross Campbell, Derek Hill, Antony Graham, Beth Kytzia and Karen Heaney